Nouvel album ?
Mar 16 Juil - 20:19 par pierroooo
Commentaires: 210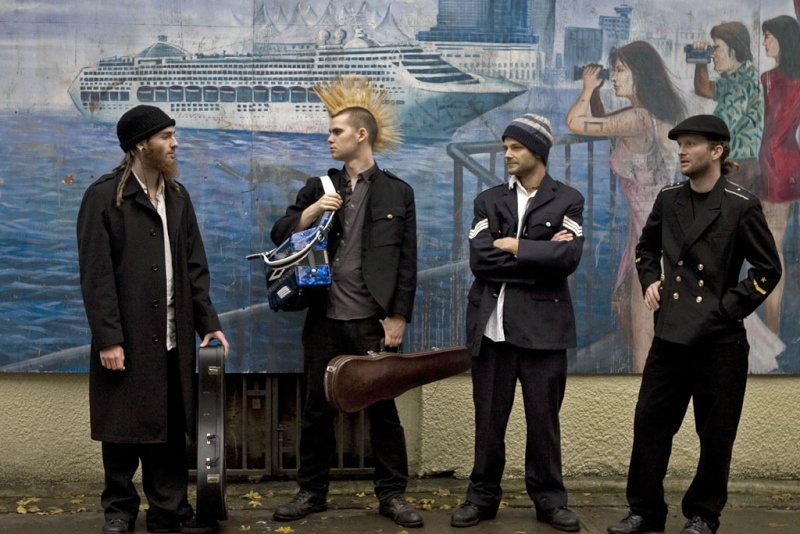 Formed in 2006 over pints of cheap beer at East Vancouver's notoriously violent Ivanhoe Hotel, the Dreadnoughts cut their teeth in the roughest dive bars in the city. They started by opening for (and earning the praise of) celtic-punk grandfathers The Real McKenzies, and since then have never looked back. Hauling a fiddle, an accordion, a mandolin, a tin whistle, guitars and drums into every venue that would have them, they quickly became known for their powerful, chaotic live performances. In four short years they have slowly but surely joined the ranks of Canada's punk rock elite, bringing their insanely energetic and dangerous live show to the four corners of the globe.
The Dreadnoughts aren't just a band, they're an advocacy group, ruthlessly promoting the idea that folk and punk music form a perfect union. They've been literally destroying stages and swilling ciders the world over, spreading their gospel to anyone and everyone who will listen.
Musically, the Dreadnoughts travel where many fear to tread, embracing a huge range of European folk traditions. For proof, look no further than their new release, "Polka's Not Dead". This recording is strewn with polkas, gypsy dances and sea shanties, each infused with the raw energy of street punk. The Dreadnoughts take folk tradition seriously, and they take punk music seriously, and "Polka's Not Dead" is their definitive statement.
Influences:
The Wurzels, Finntroll, The Distillers, Walter Ostanek, Jimmy Sturr, Bad Religion, The Creepshow, The Pogues, Tom Waits, Stan Rogers, Goran Bregovic, Alamaailman Vasarat, Darkbuster, Scream, Johnny Collins, KBTW, Stiff Little Fingers, Minor Threat, The Zydepunks, Surfin' Turnips, The New Victory Band, The Leningrad Cowboys, Rancid, Steeleye Span, Devotchka, Nirvana, Syphilis, Gin
Flemme de traduire tout ça désolé mais en gros c'est un groupe awesome que j'ai connu y'a pas longtemps à un concert à la miroit'
You're Really Floodin' it





Nombre de messages

: 7892


Age

: 24


Localisation

: Ta gueule l'admin



Groupe très cool, mais moins bon que ton elcteur Last FM !
Why Don't You Get A Post?





Nombre de messages

: 161


Age

: 33


Localisation

: Au comptoir




---
Permission de ce forum:
Vous
ne pouvez pas
répondre aux sujets dans ce forum