Nouvel album ?
Mar 16 Juil - 20:19 par pierroooo
Commentaires: 163
Quatuor formé à Belfast sur les cendres de formations locales, And So I Watch You From Afar s'est imposé en très peu de temps comme un groupe à suivre de près au sein de la nébuleuse Post Rock. Déjà forte de deux EP, la discographie du groupe qui a ouvert entre autres pour 65daysofstatic ou High On Fire passe au stade supérieur au mois d'Avril 2009 avec la parution d'un très attendu premier album qui, reçoit un accueil enthousiaste. Un peu moins d'un an plus tard, alors que leur réputation leur permet désormais de partager l'affiche avec Oceansize The Letters EP vient allonger la discographie du quatuor chez Smalltown America, leur label de toujours. Cet EP vient confirmer l'orientation plus virulente de la musique des irlandais développée sur And So I Watch You From Afar. Remontés comme une horloge suisse (et comme jamais) le quatuor annonce son retour pour la première moitiée de 2011 avec Gangs.
Source :
http://www.metalorgie.com/groupe/And-So-I-Watch-You-From-Afar
Formation actuelle :
Rory Friers - Guitare
Jonathan Adger - Basse
Chris Wee - Batterie, Percussions
Discographie :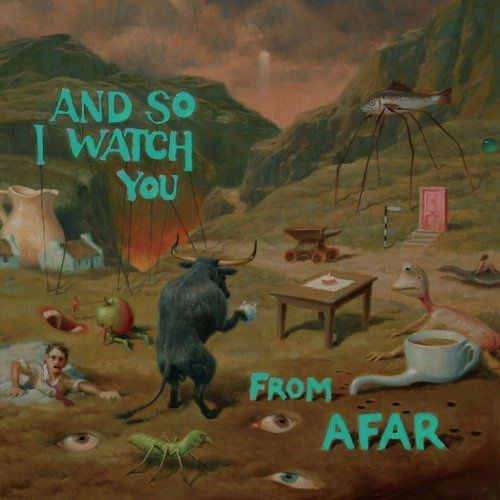 2009 : And So I Watch You From Afar
"Set Guitars to Kill" - 05:29
"A Little bit of Solidarity goes a Long Way" - 03:25
"Clench Fists, Grit Teeth...Go!" - 06:19
"I Capture Castles" - 07:17
"Start a Band" - 04:53
"Tip of the Hat, Punch in the Face" - 04:21
"If it ain't Broke...Break it" - 06:21
"These Riots are just the Beginning" - 04:48
"Don't Waste Time Doing Things You Hate" - 07:31
"The Voiceless" - 06:27
"Eat the City, Eat it Whole" - 07:45
2011 - Gangs
"BEAUTIFULUNIVERSEMASTERCHAMPION" – 5:52
"Gang (Starting Never Stopping)" – 5:26
"Search:Party:Animal" – 5:18
"7 Billion People All Alive At Once" - 5:44
"Think:Breathe:Destroy" - 4:43
"Homes - Ghost Parlor KA -6 To..." - 2:46
"Homes - ...Samara To Belfast" - 9:50
"Lifeproof" - 5:05
Quelques morceaux :
Set Guitars To Kill
If It Aint Broke Break It - Live
(putain a Dam supporting TCV quoi -__- )
Start a Band
Bandcamp : http://asiwyfa.bandcamp.com/album/and-so-i-watch-you-from-afar
MySpace : http://www.myspace.com/andsoiwatchyoufromafar

__________________
Veni, Vidi, Omsi
Mondo Moderator





Nombre de messages

: 21558


Age

: 28


Localisation

: Hamburger



Putain et la je me fais l'EP The Letters et cash jme prends une baffe
Ce groupe est génial, génial

__________________
Veni, Vidi, Omsi
Barman





Nombre de messages

: 7682


Age

: 30


Localisation

: LILLE BEACH



C'est spécial je trouve. Je n'écouterais pas toute la journée, mais j'avoue que c'est bien fichu, ça passe bien.
ça mérite une seconde écoute
Original Posteur Yeah





Nombre de messages

: 2280


Age

: 38


Localisation

: 75



Au Nouveau Casino le 21 avril et a Lyon (Marché Gare) le 20

Allez y a ma place ><

__________________
Veni, Vidi, Omsi
The End Of The Flood





Nombre de messages

: 37168


Age

: 29


Localisation

: Avignon



Nouvel album dans quelques jours.

Ca a l'air sur la lignée du précédent; tout en se rapprochant des premiers, ce qui ne me déplait pas

http://www.asiwyfa.com/heirs

__________________
Veni, Vidi, Omsi

Sujets similaires
---
Permission de ce forum:
Vous
ne pouvez pas
répondre aux sujets dans ce forum